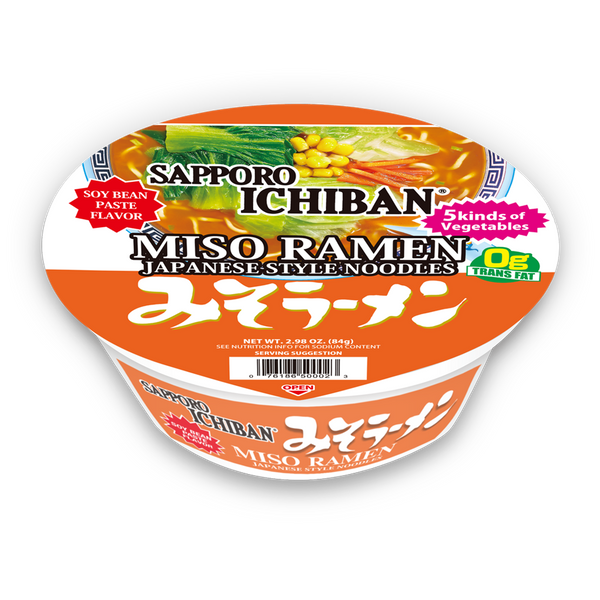 Sapporo Ichiban Miso Bowl
Details:
Six different types of miso (Japanese soybean paste) are blended along with a mixture of vegetables to create the rich and robust Japanese favorite taste. Garnished with Bok Choi, Cabbage, Leeks, Corn & Carrots.

Trans Fat-Free
5 Kinds of Vegetables Included (Bok Choi, Cabbage, Leeks, Corn & Carrots)
PRODUCT SPECIFICATIONS
DESCRIPTION: 
Wavy
noodles in a miso based broth including seven-spice chili seasoning.
NOODLES: 
WHEAT FLOUR, PALM OIL, SALT, CALCIUM CARBONATE, SODIUM
CARBONATE, POTASSIUM CARBONATE, TOCOPHEROLS
SOUP BASE: 
MISO POWDER (MISO [SOYBEANS, SALT, RICE, BAREY], MODIFIED TAPIOCA STARCH, SOY SAUCE [SOYBEANS, WHEAT, SALT], SALT, CARAMEL COLOR, MONOSODIUM GLUTAMATE), SALT, MONOSODIUM GLUTAMATE, MALTOSE, SUGAR, DEXTRIN, GARLIC POWDER, VEGETABLE OIL (PALM OIL, RICE OIL), LACTOSE, CABBAGE EXTRACT POWDER, YEAST EXTRACT POWDER, CARAMEL COLOR, WHEAT FLOUR, SPICES, LEEK CHIPS, WHOLE MILK POWDER, FERMENTED SEASONING, GUAR GUM, SPICE EXTRACT, BONITO EXTRACT POWDER, MILK PROTEIN, DISODIUM INOSINATE, DISODIUM GUANYLATE, DISODIUM SUCCINATE, CITRIC ACID, SORBITAN MONOSTEARATE, DIPOTASSIUM PHOSPHATE, CAROB BEAN GUM, TOCOPHEROLS
GARNISH:
BOK CHOY (GLUCOSE, SALT), CABBAGE (GLUCOSE, LACTOSE, MALTOSE), CARROT (GLUCOSE), CORN, LEEK
CONDITION OF STORAGE:
Store in a cool and dry place (Ambient temperature 60-65°F / 15-18°C).
SHELF LIFE:
 8 months
INTENDED USE:
Add boiling water and soup packet to bowl noodles. Consume when noodles are cooked and broth is warm (not boiling hot).
TARGET CONSUMER:
All consumer groups may safely consume product after following cooking instructions
CONTAINS:
MILK, FISH, TREE NUTS, WHEAT AND SOYBEANS
MAY CONTAIN:
EGGS, CRUSTACEAN SHELLFISH, TREE NUTS AND PEANUTS
NUTRITION FACTS
Serving Size 1 package
Serving Per Container 1
| | |
| --- | --- |
| Calories | 360 |
| Total Fat | 12g |
| Saturated Fats | 6g |
| Trans Fat | 0g |
| Cholesterol | 5mg |
| Sodium | 2,100mg |
| Total Carbohydrate | 54g |
| Dietary Fibers | 3g |
| Sugars | 50g |
| Protein | 8g |
| Vitamin A | 0% |
| VitaminC | 0% |
| Calcium | 15% |
| Iron | 2% |
| Potassium | 4% |