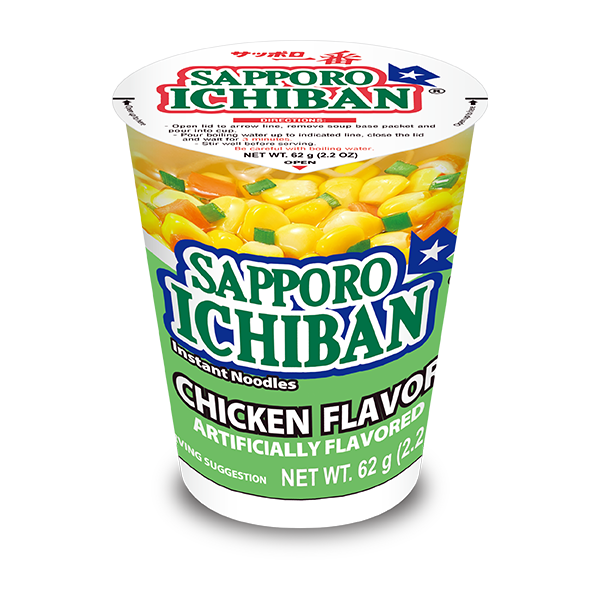 Sapporo Ichiban Chicken Cup
Details:
Our light yet flavorful chicken soup is created by blending chicken stock with our handcrafted spice mix. The tasty noodles create a perfect balance along with corn, carrots and green peas garnished as toppings.
PRODUCT SPECIFICATIONS
DESCRIPTION:
Wavy noodles in light brown soup derived from Chicken stock, soy sauce, and mixture of vegetables and spices; corn, carrot, and green peas added to enhance flavor
NOODLES (85.5%):
 Wheat flour, tapioca starch, vegetable oil (palm oil, antioxidants (butylated hydroxyanisole, butylated hydroxytoluene)), salt, monosodium glutamate, sodium polyphosphates, potassium carbonates, sodium carbonates.
SOUP (9.8%):
 Salt, monosodium glutamate, sugar, artificial chicken flavor 0.7%(barley, milk), spices, yeast extract, silicon dioxide, white radish extract, tapioca starch, natural fried shallot flavor, disodium inosinate, disodium guanylate, artificial spring onion flavor, curcumin.
VEGETABLES (4.7%):
 Dried corn, dried carrot, dried spring onion.
CONDITION OF STORAGE:
Store in a cool and dry place (Ambient temperature 60-65°F / 15-18°C)
SHELF LIFE:
12 months
INTENDED USE:
Add boiling water and soup packet to cup noodles. Consume when noodles are cooked and broth is warm (not boiling hot).
TARGET CONSUMER:
All consumer groups may safely consume product after following cooking instructions.
ALLERGEN INFORMATION
Contains: Wheat, Milk
May Contain: Fish
NUTRITION FACTS
Serving Size 1 package of 62g
Serving Per Container
| | |
| --- | --- |
| Calories | 270 |
| Total Fat | 10g |
| Saturated Fats | 5g |
| Trans Fat | 0g |
| Cholesterol | 0mg |
| Sodium | 1,730mg |
| Total Carbohydrate | 40g |
| Dietary Fibers | 2g |
| Sugars | 5g |
| Protein | 6g |
| Vitamin D | 0% |
| Calcium | 0% |
| Iron | 10% |
| Potassium | 4% |
COOKING DIRECTIONS