---
---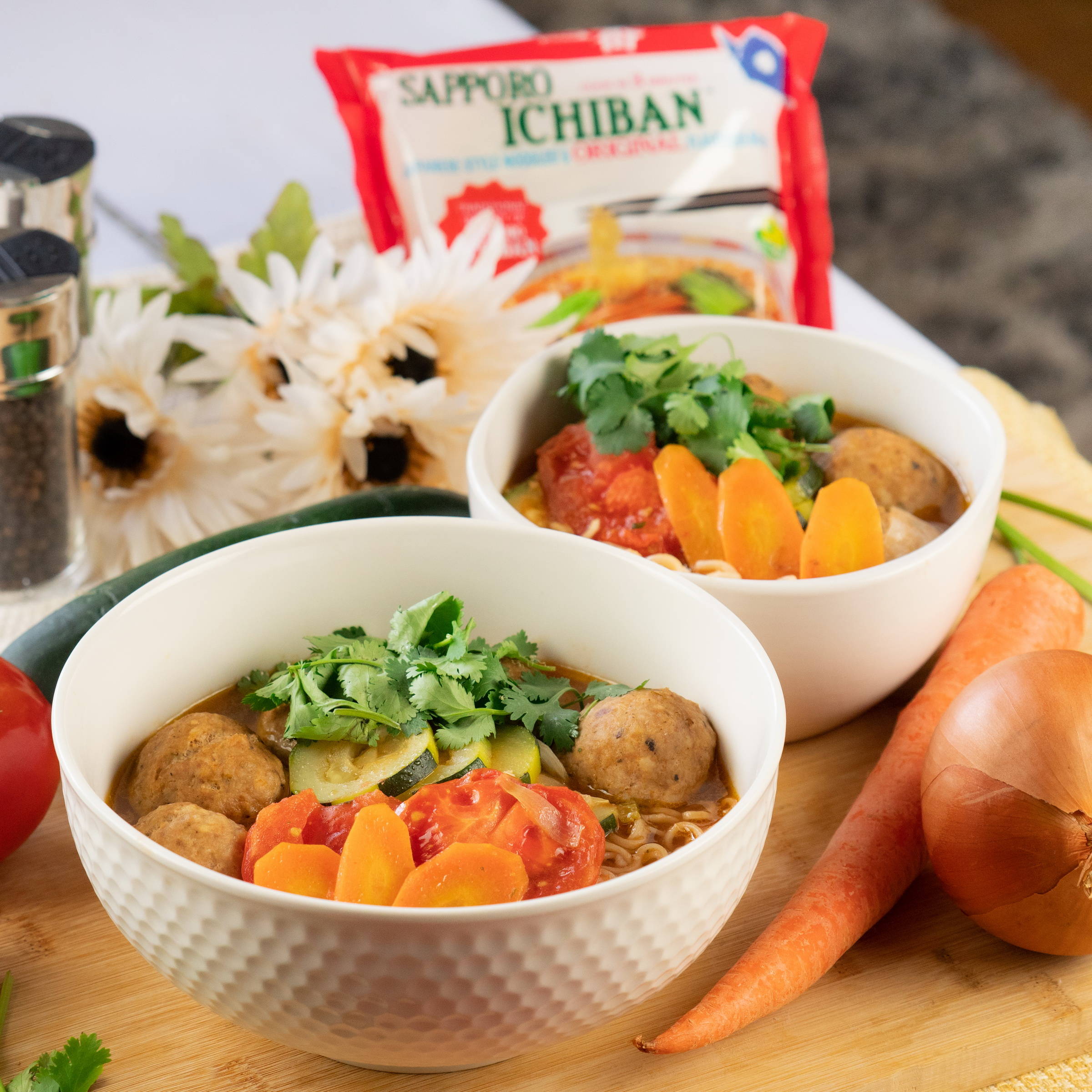 Serves 3-4
Prep time: 25 minutes
Cook time: 20 minutes
Ingredients:
For meatballs:
½ pound lean ground turkey
1 egg, beaten
½ cup breadcrumbs
½ teaspoon cumin
½ teaspoon oregano
¼ teaspoon pepper
¼ teaspoon salt
For soup:
2 packages Sapporo Ichiban Original Ramen
2 tablespoons olive oil
½ white onion, chopped
1 clove garlic, minced
4 cups water
1 cup chicken broth
1/3 cup tomato sauce
1 carrot, sliced
½ zucchini, sliced
1 tomato, sliced
Juice from ½ a lime
Cilantro to garnish
---
---
STEP 1
Prepare the meatballs by combining all ingredients in a large bowl.
Shape into approximately 10 1 ½ inch balls and place them on a plate lined with wax paper.
Chill your meatballs in the refrigerator for at least 20 minutes prior to using.
STEP 2
While the meatballs chill, prepare your soup. In a pot, heat olive oil over medium.
Add onion and garlic and sauté until fragrant, about 3-5 minutes.
STEP 3
Add water, chicken broth, tomato sauce, carrots and zucchini and bring to a boil.
Reduce heat and let simmer for 5 minutes.

STEP 4
Once the meatballs have chilled, drop them into the simmering soup.
Cook for five minutes, then add ramen and tomatoes.
Cook for another three minutes.

STEP 5
Remove soup from heat and stir in seasoning from attached packets until dissolved.
Ladle into bowls and garnish with cilantro and a squeeze of lime.