---
---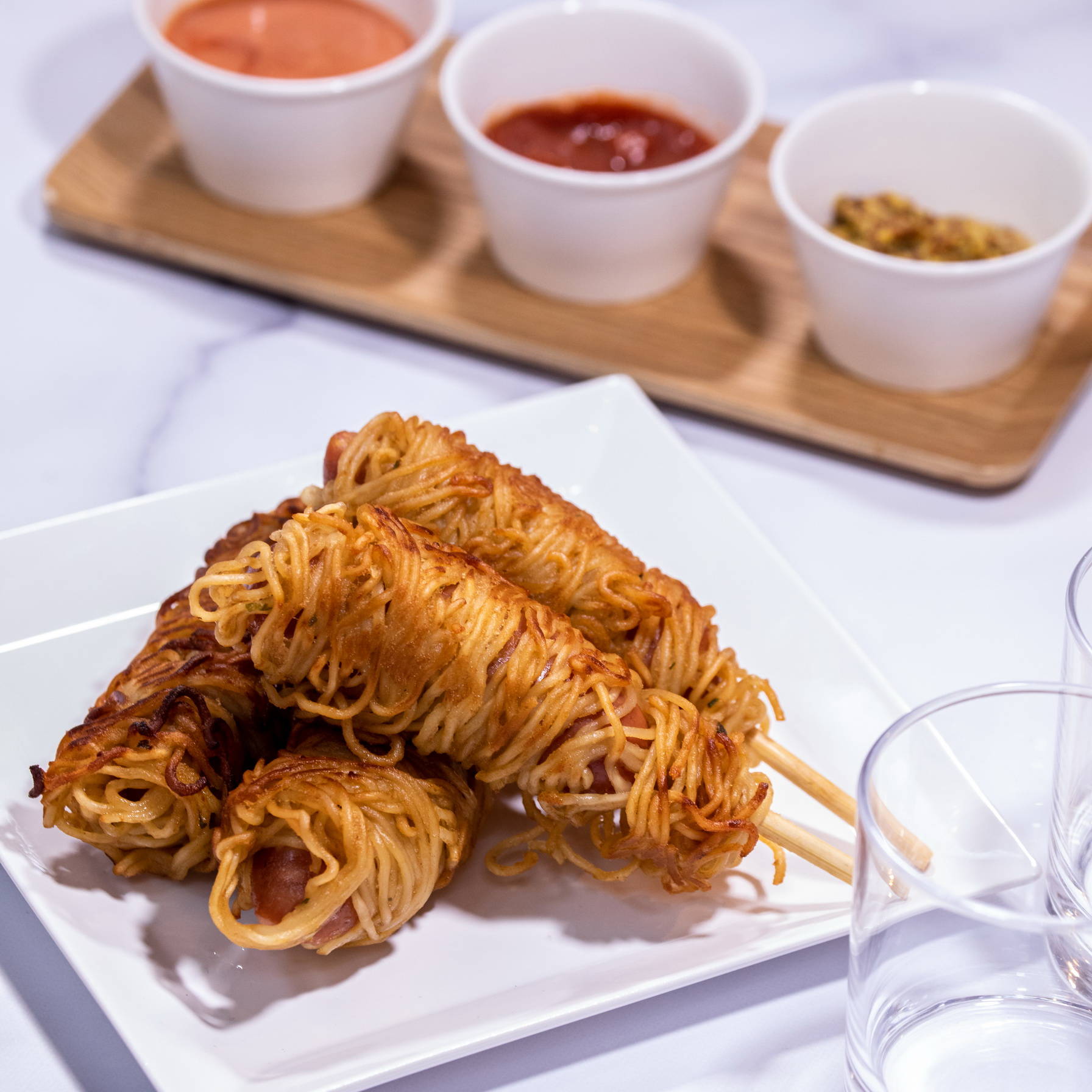 Ramen Dogs and Spicy Ketchup


Serves 4
Prep time: 5 minutes
Cook time: 15-20 minutes
Ingredients:
1 package Sapporo Ichiban Miso Ramen
4 hot dogs, skewered
3 ounces hot water
3 tablespoons instant mashed potato powder
1 tablespoon flour
2 teaspoons seasoning from flavor packet
Vegetable or olive oil for frying
Spicy Ketchup Dipping Sauce (Optional)
¼ cup ketchup
½ tablespoon soy sauce
½ teaspoon Sriracha or hot sauce of your choice
---
---
---
STEP 1
In a saucepan, bring 2 cups of water to a boil. Add the ramen and boil for three minutes.
Drain and rinse noodles with cold water.
STEP 2
In a bowl, combine the instant mashed potato powder with 3 ounces of hot water and mix together.
Then, add flour and seasoning packet. Stir to combine.
STEP 3
Take the wet ramen and toss in instant mashed potato powder and flour mixture until the noodles are thoroughly coated.

STEP 4
Wrap noodles around the skewered hot dogs covering them completely.

STEP 5
In a pan, heat oil (1/4 inch) over medium heat for 5-10 minutes.
The oil should be approximately 350 degrees.
Fry noodle-covered hot dogs in the oil for 2-3 minutes, turning frequently.

STEP 6
Make the sauce, if using: Combine all sauce ingredients in a small bowl.
Serve hot dogs with dipping sauce or condiments of your choice.