---
---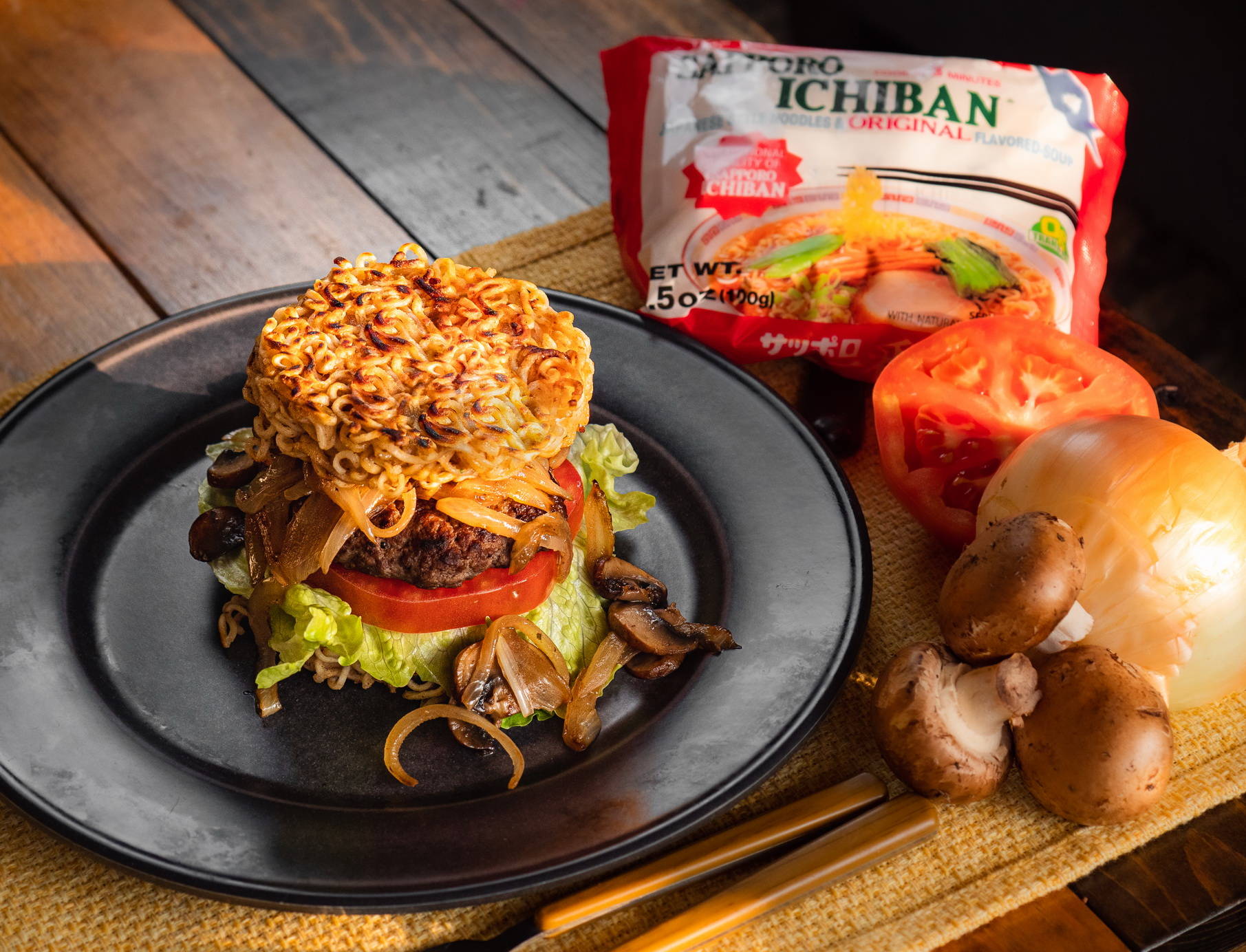 Serves 1
Prep time: 10 minutes
Cook time: 25 minutes
Ingredients:
1 package Sapporo Ichiban Original Ramen
1 tablespoon beaten egg
1 tablespoon flour
1/8 teaspoon cornstarch
4 tablespoons cooking oil
1 tablespoon butter
¼ cup sliced mushrooms
¼ cup sliced yellow onion
1 sliced tomato
1 lettuce leaf
4 ounces ground beef
Salt and pepper to season
---
---
---
STEP 1
Break ramen in half by splitting apart where the noodles are folded.
Place ramen in a bowl and cover with boiling water. Drain after 3 minutes.
STEP 2
In a bowl, combine flour and cornstarch. Sprinkle over ramen.
Add egg and 1/3 of seasoning from attached packet. Mix well.
STEP 3
In a pan, heat 3 tablespoons of oil over medium.
Using aluminum foil, create two 1-inch tall bun-sized circles to serve as your molds.
Place them in the pan. Then, add half of your ramen to each mold.
Cook for 3 minutes, periodically pressing down on your ramen buns with a spatula.

STEP 4
Flip the ramen buns and cook for another 1 ½ minutes.
Remove the molds and cook for an additional minute. Turn off heat and set buns aside.

STEP 5
In a pan, heat butter over medium. Once melted, add onions and sauté for 2 minutes.
Add mushrooms and sauté for 5-7 minutes or until mushrooms and onions are tender.
Remove from heat and set aside.

STEP 6
Season ground beef with salt and pepper and form into a patty that is about an inch thick.

STEP 7
In a pan, heat one tablespoon of oil over medium-high.
When the oil is hot, add your burger. Cook for 3-5 minutes, then gently turn with a spatula.
Cook for an additional 3-5 minutes.

STEP 8
Place your burger on a ramen bun.
Add lettuces leaf, tomato, mushrooms and onions, then top with your other ramen bun.