---
---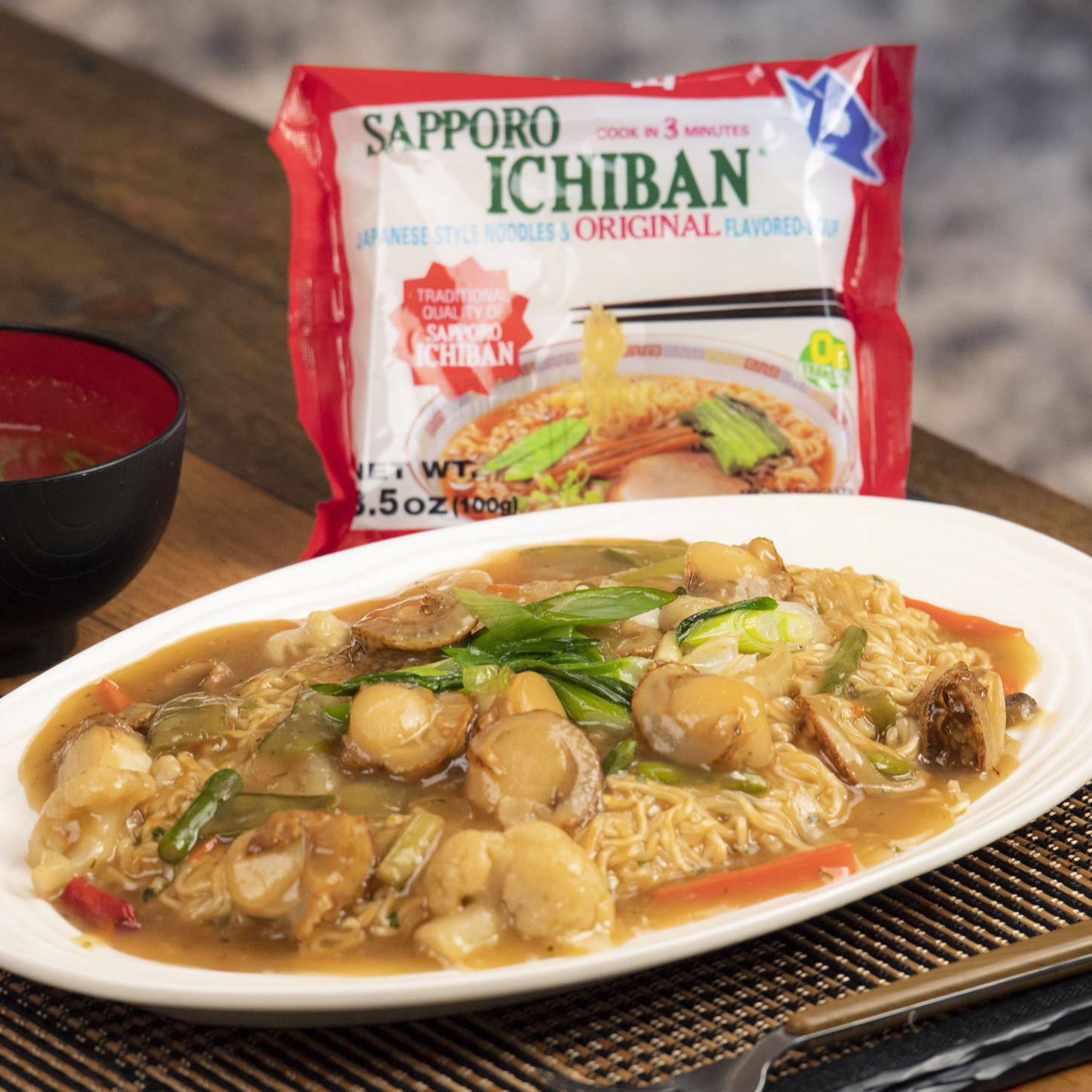 Serves 2
Prep time: 5 minutes
Cook time: 25 minutes
Ingredients:
2 packages Sapporo Ichiban Original Ramen
1 green onion, sliced
1 cup mixed frozen stir-fry vegetables (we used carrots, mushrooms, water chestnuts and snow peas)
6 ounces frozen scallops
4 tablespoons potato starch
Vegetable oil for frying
---
---
---
STEP 1
In a pan, heat 1 tablespoon of vegetable oil over medium.
Add green onions and fry gently for 2 minutes. Transfer to a plate.
STEP 2
Add another tablespoon of vegetable oil to your pan.
Add stir-fry vegetables and scallops and sauté until vegetables are tender and scallops are golden brown on the outside and opaque.
STEP 3
Add 2 ½ cups of water and powder from attached seasoning packets and bring to a boil.

STEP 4
Mix potato starch with 4 tablespoons of water and add to your pan.
Once the broth has thickened, add the green onions. Remove from heat and set aside.

STEP 5
In a pot, bring 4 cups of water to a boil.
Add ramen and cook for 3 minutes. Drain noodles.

STEP 6
Generously oil a griddle and heat over medium.
Spread ramen out flat on the griddle by pressing with a spatula and fry until ramen is lightly browned, approximately 8 minutes.
Gently flip your ramen and cook for another 5-7 minutes.

STEP 7
Transfer ramen to a platter.
Pour sauce over ramen, and garnish with spices from attached packet.