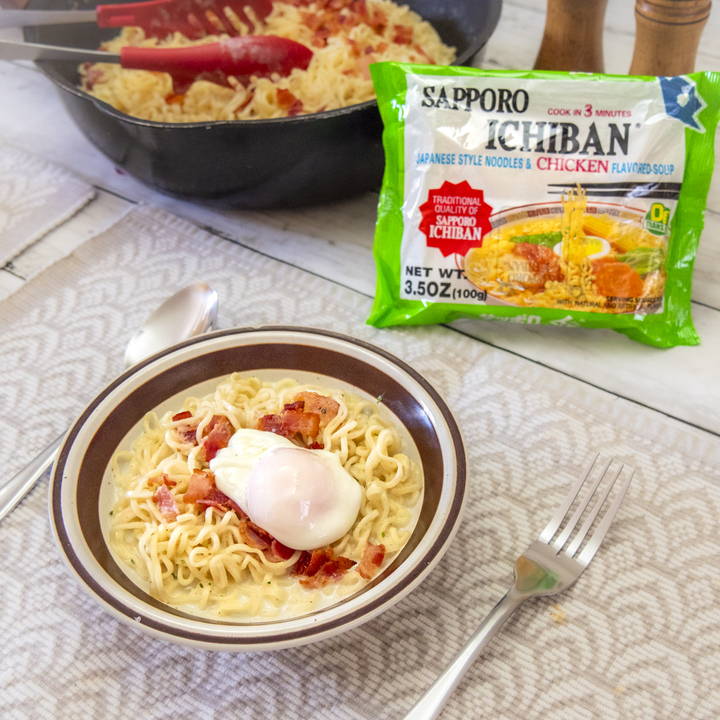 Ultimate Comfort Food Fusion


Serves: 5
Cook Time: 20 minutes
Sapporo Ichiban Chicken Noodles x5
Sapporo Ichiban Chicken Soup Packets x3
5 eggs
6 slices of bacon, cut into small pieces
1 cup grated parmesan cheese
6 cups water for eggs
4 cups water for noodles
3 cups milk
Black pepper (preferred amount)
STEP 1
Fill a medium pot/saucepan with water (about 6 cups) and boil over medium heat.
Once the water starts boiling, remove the pot from heat, add 1 cup of water and add 5 refrigerated eggs.
Let the eggs sit for about 17 - 18 minutes.
STEP 2
Cook bacon over medium heat in a pan till they become crispy. Set them aside.
STEP 3
In a large pot, Combine water (4 cups) and milk and bring it to a boil.
Make sure to stir occasionally.
STEP 4
Add soup packets and noodles and cook the noodles over medium heat
for about 2 minutes till the noodles start to come apart.
STEP 5
Add parmesan cheese. Mix everything together for about 30 seconds. Remove from heat.
STEP 6
Add bacon and black pepper.
STEP 7
Crack open the eggs from step 1 on top and it's ready to serve!