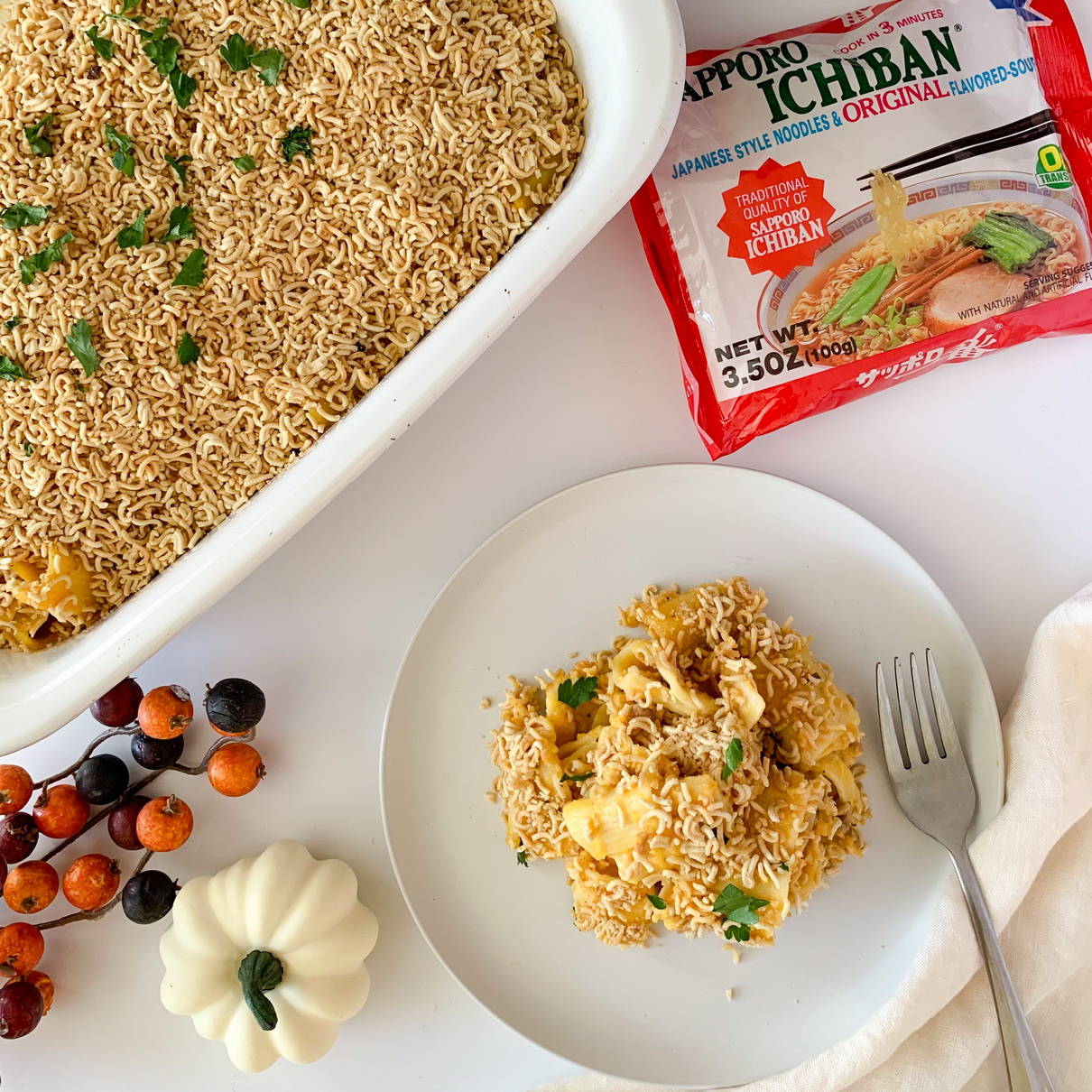 Butternut Squash Mac & Cheese

Serves: 5-6
Cook Time: 1 hour 15 minutes
5 packs Sapporo Ichiban Original Flavor Ramen
1 butternut squash
1 lb rigatoni
1 large shallot, minced
1 Italian pork sausage link (casing removed)
½ teaspoon salt
½ teaspoon pepper
½ teaspoon garlic powder
½ teaspoon thyme
¼ teaspoon paprika
¼ teaspoon nutmeg
½ teaspoon oregano
½ teaspoon red chili flakes
1 cup whole milk
½ cup freshly grated Gruyere
½ cup freshly grated Parmesan
½ cup freshly grated Gouda
½ cup pasta water
STEP 1
Preheat the oven to 350°F and line a baking sheet with parchment paper.
STEP 2
Pulse the dry ramen noodles in a food processor until you achieve small, crumb-like pieces.
Pour the noodles into a large bowl and add in 1 pack of seasoning. Mix to thoroughly combine.
STEP 3
Remove the ends of the butternut squash and cut in half.
Scoop out the seeds and drizzle both sides with avocado or olive oil.
STEP 4
Increase the temperature to 400°F and bake for 45 minutes, or until soft and tender.
STEP 5
Meanwhile in a large pan, cook the bay leaf shallot in olive oil over medium-low heat until soft and translucent.
STEP 6
Add the sausage to break apart into small pieces and cook until golden brown.
STEP 7
When the squash is done roasting, let it cool slightly and scoop out the inside to separate it from the skin.
Add to a blender or food processor along with the salt, pepper, garlic powder, thyme, paprika, nutmeg,
oregano, red pepper flakes, and milk. Blend until smooth.
STEP 8
Transfer the mixture to the large pan containing the cooked shallot and sausage.
Add the gruyere, parmesan, and gouda to mix and melt completely on low heat.

STEP 9
Cook the pasta in a large pot until al dente (about 8 minutes).
STEP 10
Reserve ½ cup of pasta water before draining.
STEP 11
Turn off the heat and add the cooked pasta to the sauce.
Slowly add pasta water only as needed, starting with a few tablespoons at a time.
Continue to stir until all of the pasta is evenly coated with sauce and the cheese is melted.
STEP 12
Transfer the mac and cheese into a large baking dish and spread
it out into an even layer and top with the prepared ramen crumb mixture.
STEP 13
Bake for 15 minutes or until the crumb topping turns slightly more golden brown.
STEP 14
Serve immediately and enjoy.