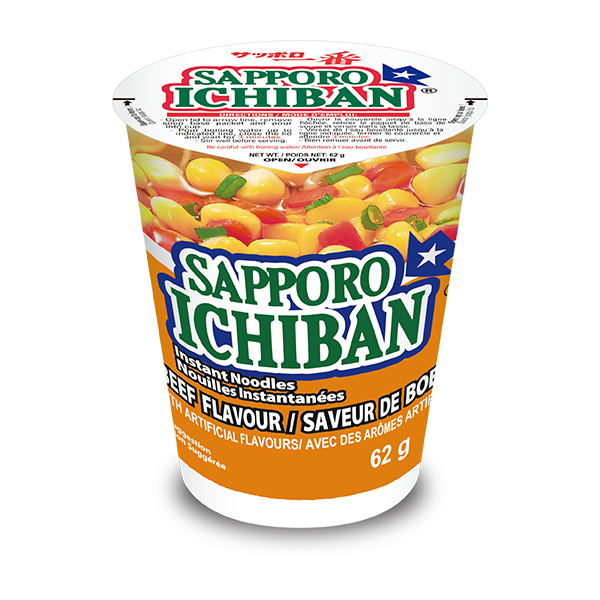 Details:
Beef stock and shoyu is blended along with vegetables and a mixture of spices including pepper to bring out the rich and flavorful beef taste with a delightful aftertaste. The dish is garnished with corn, carrots and green peas.
PRODUCT SPECIFICATIONS
DESCRIPTION:
Wavy noodles in light brown soup derived from Chicken stock, soy sauce, and mixture of vegetables and spices; corn, carrot, and leek pieces added to enhance flavor.
NOODLES:
 Enriched white flour (Wheat), Tapioca starch, Palm oil, Salt, Monosodium glutamate, Sodium polyphosphates, Potassium carbonates, Sodium carbonates, Butyl hydroxyanisol, Butyl hydroxytoluen.
SOUP:
Salt, Sugar, Monosodium glutamate, Spices, Plain caramel, Tapioca starch, Yeast extract, Soy sauce powder (Soybean, Wheat, Salt, Dextrin), Artificial vegetable flavour, Xanthan gum, Disodium inosinate, Disodium guanylate, Silicon dioxide, Palm oil, Artificial beef flavour, Butyl hydroxyanisol, Butyl hydroxytoluen.
VEGETABLES:
Dried corn, Dried carrot, Dried spring onion.
CONDITION OF STORAGE:
Store in a cool and dry place (Ambient temperature 60-65°F / 15-18°C).
SHELF LIFE:
12 months
INTENDED USE:
Add boiling water and soup packet to cup noodles. Consume when noodles are cooked and broth is warm (not boiling hot).
TARGET CONSUMER:
All consumer groups may safely consume product after following cooking instructions
ALLERGEN INFORMATION
Contains: Wheat, Soybean
Contain: Fish
NUTRITION FACTS
Per 1 Container (62g)
Serving Per Container 1
| | |
| --- | --- |
| Calories | 270 |
| Total Fat | 9g |
| Saturated Fats | 5g |
| Trans Fat | 0g |
| Cholesterol | 0mg |
| Sodium | 1,300mg |
| Total Carbohydrate | 41g |
| Dietary Fibers | 2g |
| Sugars | 6g |
| Protein | 6g |
| Vitamin D | 0% |
| Calcium | 2% |
| Iron | 22% |
| Potassium | 4% |
COOKING DIRECTIONS